MY BUBBLE MACHINE
As most people know I am a bit of a sucker for a challenge. Back in 1998 Dave Robinson said that some one should be able to build a bubble machine to be lifted by a kite.After some thought both Pete Willis and I came up with working prototypes which I have used successfully in the 1999 season.
I have met a few problems during the year and brought my solutions into into a markII. As a number of people have expressed an interest in building on of these I will try and give brief details here.
Parts required
Cereal storage box from Pound saver. £1.25
Low rev. motor and gear box from good model shop £7+
3" tyred wheel from B & Q £3
Double 'C' cell battery holder from Tandy £1.20
2 'C' cells
Million bubble blower from Pound saver £1.60
aluminium tube,self tap screws, 1" aluminium angle, M4 nuts & Bolts, all from B & Q about £2 per unit.

And this is what you do

First remove the handle of the million bubble blower and the attach it to the tyred wheel concentrically using self taping screws,
Follow the instructions supplied with the motor to set it to rotate at about 20 rpm.
Now extend the shaft to using the ally tube to be long enough to go through the cereal box. I drilled and pinned the shaft to stop it slipping but "thread lock" would probably as good. This ally tube should now be the same diameter as the inside of the wheel.
Using high class engineering methods (eyeball it) mark the location of the axle on both sides of the box. Drill holes both sides being careful to make sure these give a perpendicular shaft alignment. Don't worry about bearings as aluminium running in plastic with soap lubricant is pretty good.
Use a short section of ally angle to make a bracket to mount the motor. Thread the extended axle through the drilled holes and then locate the bracket on the box.
Now mount the battery carrier below the motor and solder the leads to the motor terminals taking care to observe the correct polarity.
Test this by fitting batteries and ensuring everything rotates freely. Once this is OK withdraw the drive and refit it fitting the wheel as you go. This is fixed to the shaft using 2 or 3 self tapping screws though the hub.
Once this is in place use a 2.5" hole saw to make holes in opposite faces of the box. Add some form of suspension (I drilled 4 holes in the top edge of the box and threaded a length of string through them), fill with bubble liquid up to the wheel, fit the batteries and hoist it sky wards.
If the wind is strong enough to lift it you should be rewarded with a good show of bubbles. Please do not use this where there are proofed tents, flyers of paper kites, trade stalls or others who may not enjoy bubbles as much as we do.
To give you a little more detail of my system I hope the following picture may be of assistance.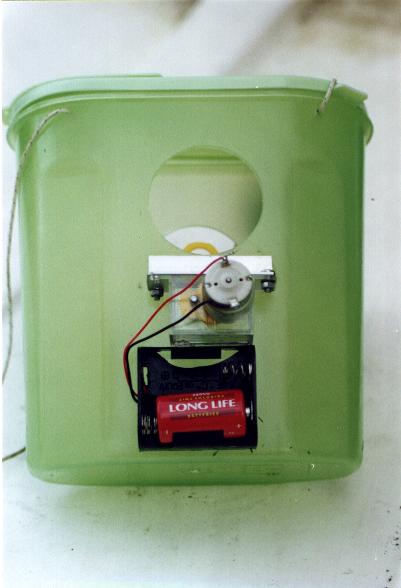 Since I wrote this article various machines have come on the market and in June 04 Saisbury's are selling a good one for £15. It is a bit heavy but why go to all the trouble of building one unless you have only a small lifter. Then my design is no good any way!